Set of 4 1921 Morgan Silver Dollars
(if less wanted send email and ask please)
1921 Morgan Dollar Value is Conditional
Starting with the image of an "uncirculated" Silver dollar, compare your coin to the grading images to find a close match. Wear from circulation flattens and removes details from the surface. The visual difference separates one "grade" from the next. Although top values are reserved for the "Uncirculated" grade, a lightly worn 1921 dollar is still highly valued by collectors.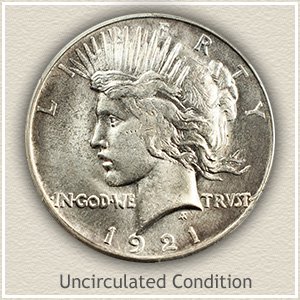 Uncirculated: A silver dollar in "uncirculated" condition must not show any wear to its surface. First to show wear is the mint luster imparted to the surface when coined. Hold your coin by the rims at a slight angle, when tilted back and forth luster rotates across the entire design. Even a short time spent in circulation quickly removes this luster leaving areas dull in appearance.
Adding a layer of complexity to grading your coin is the possibility of a "weak" strike. A further discussion of bold verses weak strike of design specific to the 1921 Peace dollar is covered above.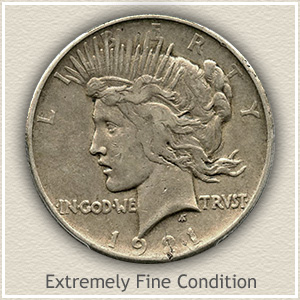 Extremely Fine: A slight amount of wear evenly distributed on a silver dollar indicates the "extremely fine" condition. Look closely at the tie of hair at the back of Miss Liberty's head. Although some flatness is evident, a distant roundness to the design remains. Many strands of hair also show in the wisps trailing back from her neck. Overall your coin should demonstrate a nice sharp appearance.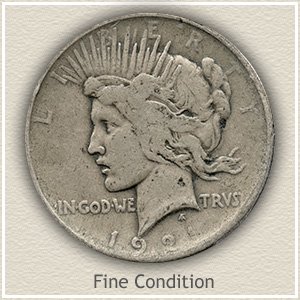 Fine: Moderate, noticeable merging of design is typical of a 1921 dollar in "fine" condition. Obvious wear covers both Miss Liberty and her features and has reduced the original boldness of the lettering. A smoothness and flatting of the once rounded rays rising from the crown is a good indication of this grade.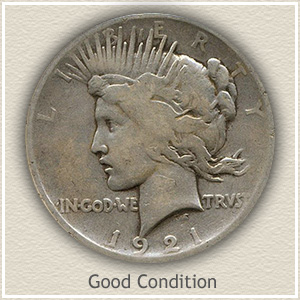 Good: Wide areas of wear and merging of the hairline with the neck designates your coin as "good" condition. Although in a comparatively low grade, 1921 Peace silver dollar value even in this worn condition confirms its collectability status. On the reverse, the eagle is well outlined, however most feather detail is missing.
Thank you for looking at our auctions. Here we have 4 each- 1 set, 1921 silver Morgan dollar. These coins are in uncertified condition and are very nice coins. Please look at the 300 DPI scan and grade the coin for yourself as this is the actual coin you will receive. I do not attach a grade to the coin as grading is very subjective. I will leave that up to you to grade the coin based on the 300 DPI high resolution scan. All our coins are guaranteed to be 100% authentic and we offer full refunds on all our items (less shipping both ways) if you do not like the coin once you receive it, as long as it is returned unopened in the clear holder that we will ship it in. We highly value all our clients and we will ALWAYS make sure you are happy with your transaction. Payments must be received within 7 days of auction closing or items may be subject to relist. We do not want to disappoint another serious another buyer.
I have been buying and selling coins for 35 plus years and do my best at valuing the coins I offer from all over the world.
If you want to buy something else you do not see in my listings please send me an email at DG@surplus.com, I will contact the coin man and see what we have for you!
will ship Prioity mail USA cont only to confirmed address on file, $10.00 flat fee.
Thank you for your confidence in our stock and come and visit anytime, online.
The Coin Man